Really, Sandara Park third wealthiest female K-Pop star with PHP1.2 billion net worth?
Former 2NE1 member Sandara Park, popularly known as Dara, finally addressed rumors about her net worth.
In her latest appearance on the Korean variety talk show Problem Child in the House last October 5, 2022, Dara reacted to an article that listed her among the seven wealthiest female K-Pop stars in the world.
An article released by SCMP.com in September 2021 claimed that Dara has a net worth of "around USD 30 million," which is about KRW43.2 billion.
With this figure, Dara came in third on the list, after IU and Lee Hyori.
Completing the list were SM Entertainment artist BoA, former Miss A member Bae Suzy, Girls Generation's Yoona, and BLACKPINK's Lisa.
Dara admitted that she felt "sad" after reading the article.
She said, as translated in English by Soompi.com, "There was an article that said I had 30 billion won [approximately PHP1,235,006,487.90].
"I was so sad. What do they mean, 30 billion? It felt so unfair."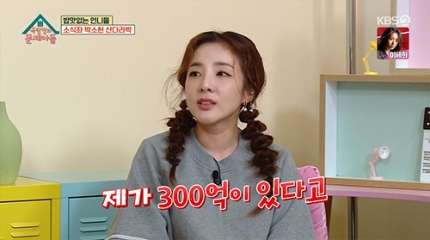 Dara added that she may have earned the said amount over the years, since she debuted in the K-Pop industry in 2009.
But she clarified that part of it went to taxes, and was shared with her agency and fellow 2NE1 members.
She elaborated, "After debuting, I do think I've earned around 30 billion won, but I shared with my agency and members and also paid taxes.
"I also shopped like crazy so I wasn't able to buy a building.
"These days, when I see my colleagues, I think that I could've bought a building if I didn't shop. Now, I do not have 30 billion won."
She quipped, "I do have 3 million won [PHP123,523.07]."
Dara left YG Entertainment in May 2021. In September of the same year, she signed with Abyss Company, which also handles GOT7's BamBam, former Wonder Girls member Sunmi, Urban Zakapa, and Park Won.
In April 2022, Dara and fellow 2NE1 members CL, Minzy, and Park Bom surprised their fans with a reunion performance at Coachella Music Festival in California.
Currently, Dara has been busy hosting the web show Sisters Who Don't Taste Rice.
Dara's last visit in Manila was in late July 2022.
She made a surprise appearance during Bambam's set at KPOP Masterz concert held at the SM Mall of Asia Arena in Pasay City.
READ MORE:
News Philippines today at https://philtoday.info/