Inka Magnaye recalls empowering story about self-love and overcoming negative self-talk
Content creator Inka Magnaye has been using her platform to champion self-love and rally against problematic societal beauty standards.
On Monday, January 9, 2023, the social media personality shared some of her recent unfiltered and unedited selfies on Instagram.
Her caption had an empowering anecdote about dealing with insecurities and combatting negative self-talk.
She recalled her pep talk with an unnamed girl who was feeling apprehensive about taking a dip in the sea wearing a swimsuit.
To help boost the girl's self-esteem, Inka used her own features as an example.
Inka wrote (published as is), "I turned to the girl beside me and asked, 'Why don't you go take a dip? I can watch the bags.'
"We'd been at the beach the whole morning but she hadn't once jumped in despite having a cute onesie on underneath her shorts.
"Shyly, she responded 'No, its okay. I'm a little embarrassed.' 'How come?'
"'I have stretch marks.' 'So do I.' I said, and saw her glance at the stretch marks that lined either side of my hips.
"'Yeah, but I have cellulite.' 'So do I.'
"And again she looked, at my thighs this time for confirmation.
"'Go jump in, have fun. I promise no one will notice.'"
The conversation made a mark on Inka, who thinks back to it constantly as a reminder of what real bodies look like, especially when her social media accounts are filled with compliments for her "flawlessness."
Her caption continued, "That's the exchange that always comes to mind when someone compliments my 'flawlessness.'
"Dark knees and elbows, dry skin, lines on my underarms, patchy pigmentation, stretch marks, and all these things that prevent us from doing things we want to do."
Inka ended her post by advising her followers to be comfortable in their own skin and not overthink other people's opinions about them.
"Someone left a comment on one of my videos saying she wished she could wear skirts but couldn't because of her dark knees.
"If you've seen me in shorts out in public, I promise you I have them all.
"You just don't notice because we're usually too preoccupied with our own 'flaws' to notice them in others."
netizens react
In the comments section of her post, Inka's followers thanked her for sharing her story and helping build other women's confidence.
Instagram user @miss_thessa admitted that she, too, also had her own bouts with her insecurities and negative self-talk.
She wrote, "It took me YEARS before I felt confident. I have pooch and stretch marks on my belly, thighs, booty due to pregnancy, cellulites and 'ube halaya' [emoji]
"but if it wasn't for other women telling me to fu** what other people would think, I wouldn't even dare wear my two piece bikini on the beach.
"I am grateful for ladies like them and like you who choose to help build up other women's confidence.
"May you all live a longer, sexier, richer and have an even happier life!!! [emoji]"
Another Instagram user @thatskyjenxxi thanked Inka for the reminder and wrote, "I needed this today. Thank you Ms. Inka [emojis]"
Meanwhile, @happinesscrossing commended Inka and told her, "That's so amazing of you!!! [emoji] so happy she jumped in."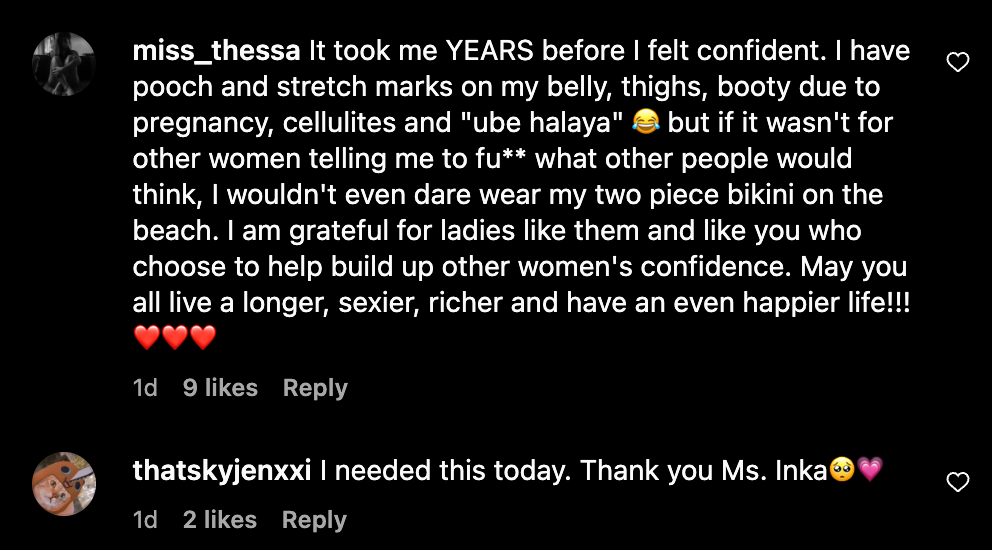 This wasn't the first time Inka spoke about self-love.
In her #InkaAdvice post on TikTok last January 12, 2022, the content creator told her followers to refrain from using the word "flaws" to describe their features.
She wrote in the caption of her post, "They're not your flaws. They are simply your features."
In her TikTok video, Inka further explained, "If you continue to label them as flaws, you will always see them as flaws. Words have power…"
She added, "Society, before, would say, 'Embrace your flaws.' But why are they flaws when they're just normal parts of my body."
READ MORE:
News Philippines today at https://philtoday.info/