Five cute moments of Ate Mela and Baby Stela Francisco
Melai Cantiveros can't get enough of capturing priceless moments with her children!
The Magandang Buhay host and her husband, fellow Pinoy Big Brother alum Jason Francisco, have two daughters: Mela and Stela.
Recently, the two little girls's videos have gone viral.
PEP.ph (Philippine Entertainment Portal) lists the Top 5 adorable moments of the sisters.
1. Ate Mela's advice to baby Stela
As the eldest daughter, Ate Mela seems to be ready to become a role model for baby sister Stela.
In a vlog uploaded by the Melason (Melai and Jason's couple name) Family on their YouTube Channel on March 31, 2020, Melai pointed the camera towards Mela, who was enumerating pieces of advice to Stela.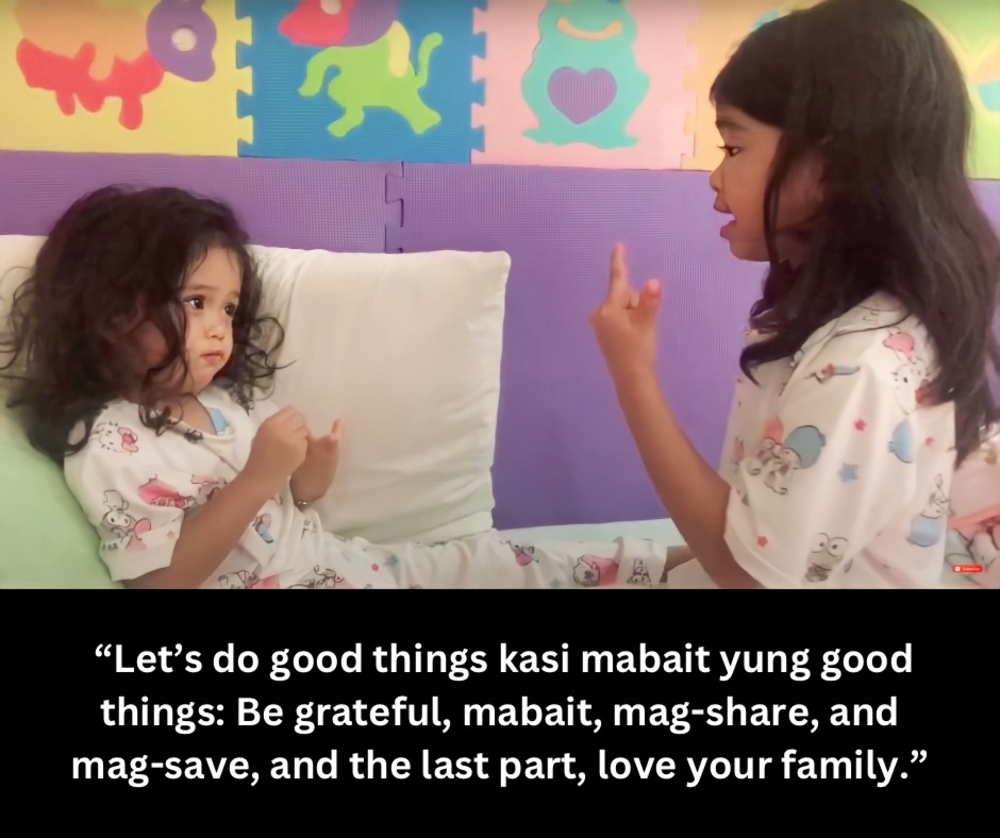 In the video, Mela started: "Don't talk about the bad things. Disappear yung bad things.
"Let's do the good things kasi mabait yung good things: Be grateful, mabait, and mag-share, and mag-save, and, the last part, love your family.
"Good things, check," she said.
Read also: Melai Cantiveros reveals ultimate dream for daughters
Mela also assured Stela that by doing these, she can make a lot of people happy.
"Angels will be so happy. Papa Jesus, Mama Mary will be so happy. But when the bad things, Papa Jesus will be sad. Mama Mary will be sad. The angels will be sad."
She continued, "Stela, listen to ate. When you are scared, the bad things will come to your dreams.
"But, when you are not scared, Papa Jesus will fight the bad things kasi Papa Jesus is strong. He's the first na anak ni Mama Mary.
"So, si Papa Jesus ay magpa-fight ng bad things. So let's not away the bad things. Just hawak Papa Jesus, just hawak mama, just hawak papa, just hawak ate."
Mela then asked Stela to repeat what she just said: "Ulit beh, copy ate.
"Di ba if you love yourself, just love your family too."
2. "I love CHICKEN NUGGETS!!!"
In a vlog titled Back To School Hacks with Mama Melai, which was posted on September 10, 2022, Melai admitted it could be challenging to balance a busy schedule and her responsibility to care for her family and household.
The mother of two revealed, "Sobrang busy day today, pero hindi ko hahayaan na yung pagka busy ko ay hindi ko pa rin ma a-arrange yung mga kakulangan sa bahay.
"And then lahat ng mga kailangan kong asikasuhin kasi marami pa akong gagawin, and sa work ko."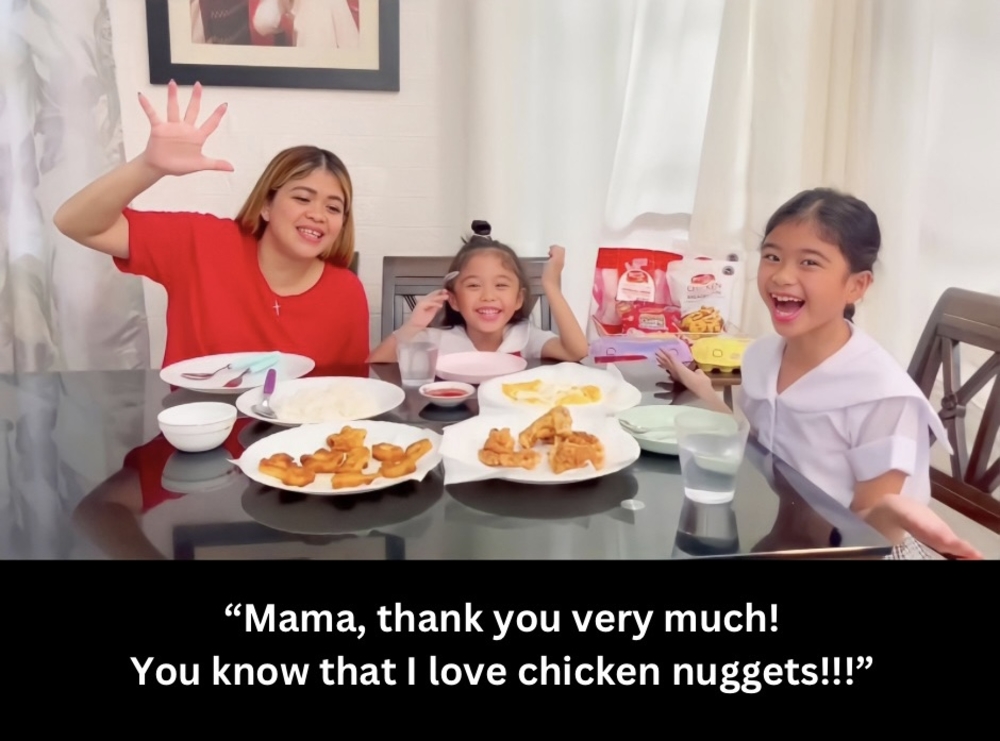 After preparing her daughters' favorite meal, Melai surprised Mela and Stela when they got home from school.
The viral clip shows Ate Mela full of emotions as she exclaimed, "Mama, thank you very much!! You know that I love chicken nuggets!"
"Me too, Mama," chimed Stela.
Melai quipped, "Ang OA naman [mimics Mela's high-pitched voice], para kang maliit na ibon. But anyways, I love you so much, that's why I buy that all to you."
"Mama kasi I'm so hungry na Mama," Mela replied.
Melai finally asked them to dig in, "O wag ka na magsalita, e, kung hungry ka na, kumain ka na. Kumain na kayo, niluto ko yan lahat para sa inyo."
Eagle-eyed netizens also caught Ate Mela's sweet gesture of placing food on Stela's plate first, before getting her share.
3. Dress-up vlog
Like most sisters, Mela and Stela love to play dress up.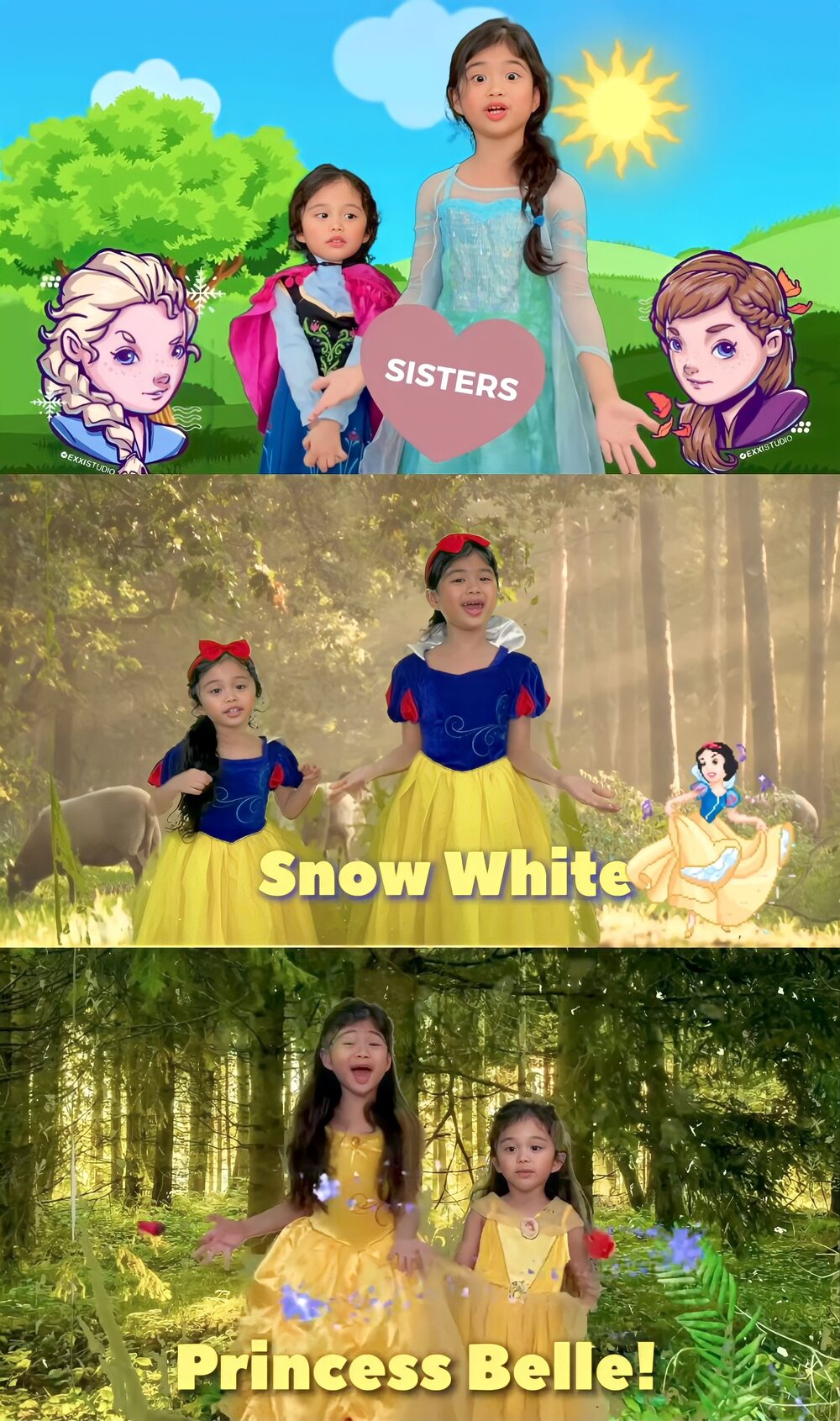 On June 4, 2021, the sisters started their own YouTube channel Like Mela and Stela.
As fans of outfit twinning and cosplaying, their first video on the channel featured this cute hobby of theirs, as they dolled themselves up to look like Disney Princesses.
Mela shared, "Today, I am Elsa."
"And I am Anna," Stela declared.
Mela explained, "This is our favorite Disney princess, because we are sisters and di ba si Anna and Elsa are sisters? So check out our different princess outfits."
Transforming into Snow White for their next costume, the sisters revealed what they like about the first-ever Disney Princess.
Stela shared, "She's maganda, she likes animals, ayaw niya ng food na apple."
After running away from the witch, played by Mama Melai, the girls transformed into Princess Belle, who had an encounter with the Beast, played by their Papa Jason.
4. Gusto Ko Nang Bumitaw cover
Asia's Songbird Regine Velasquez and Asia's Phoenix Morissette Amon spawned a lot of memes and fans, after their viral "Gusto Ko Nang Bumitaw" duet performance on ASAP Natin 'To last September 11, 2022.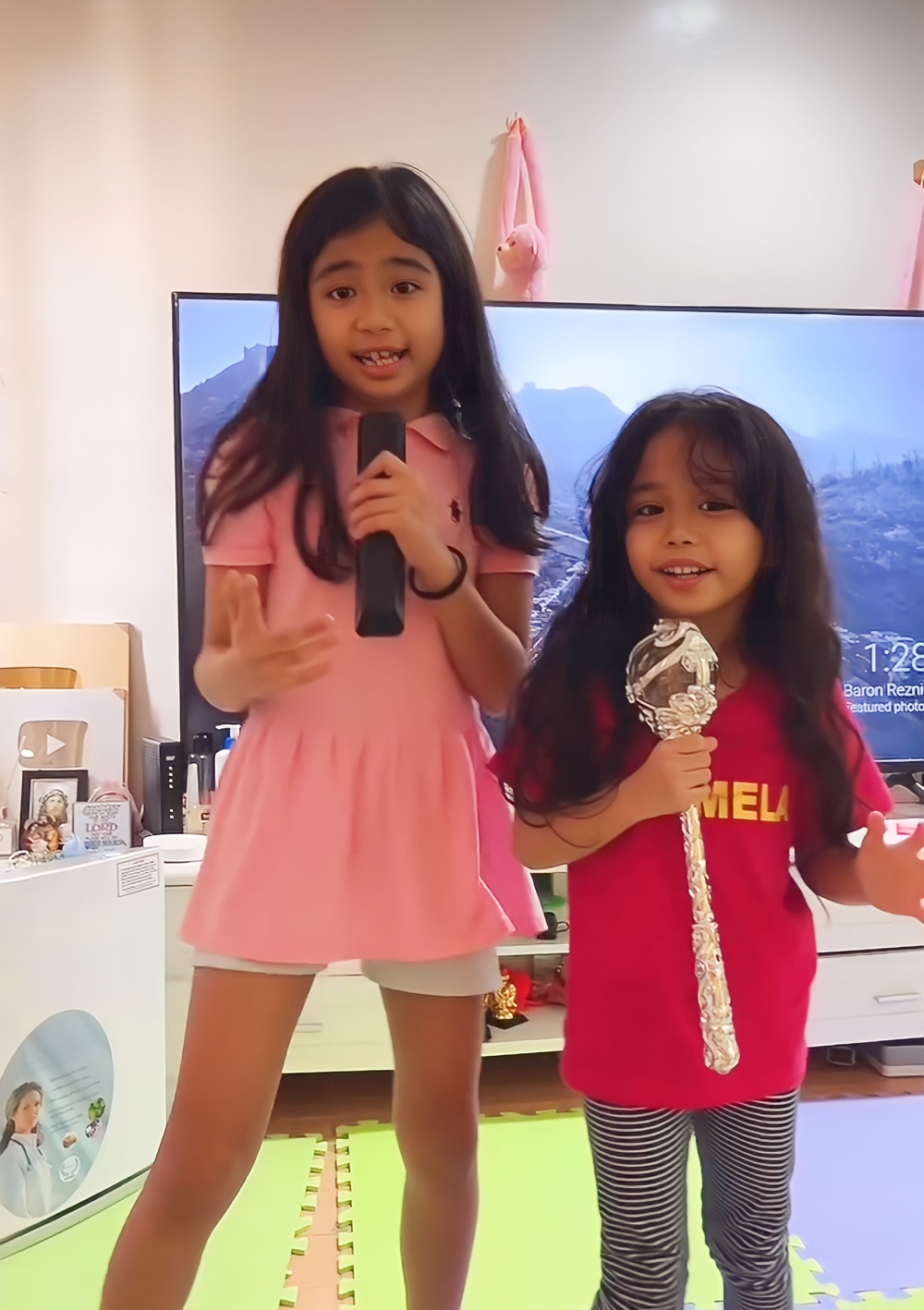 Among those fans were Mela and Stela, whose own cover of the performance was recorded by Melai.
Posted on Instagram on October 6, 2022, Melai wrote (published as is), "Hayan nanamn po sila ngayun #gustukonangbumitaw nmn trip nila Ivideo ko daw sila"
The sisters gave it their all in the video, maintaining the same level of vigor in their vocals as Regine and Morissette did.
5. Bird o daga?
While Filipinos value All Saints' Day and All Souls' Day more than Halloween, Melai thought it would be a great opportunity to let her kids wear costumes and enjoy trick-or-treating.
Melai shared, "Alam niyo ba na yung mga anak namin, minsan lang sila makakakain ng candy. Kaya kapag nakakakain sila ng candy, heaven sa kanila.
"Di namin nire-require sa kanila kasi para bang nung bata pa ako, na lesson learned na talaga ako na yung candy talaga nakasira ng ngipin ko. Chareng lang!"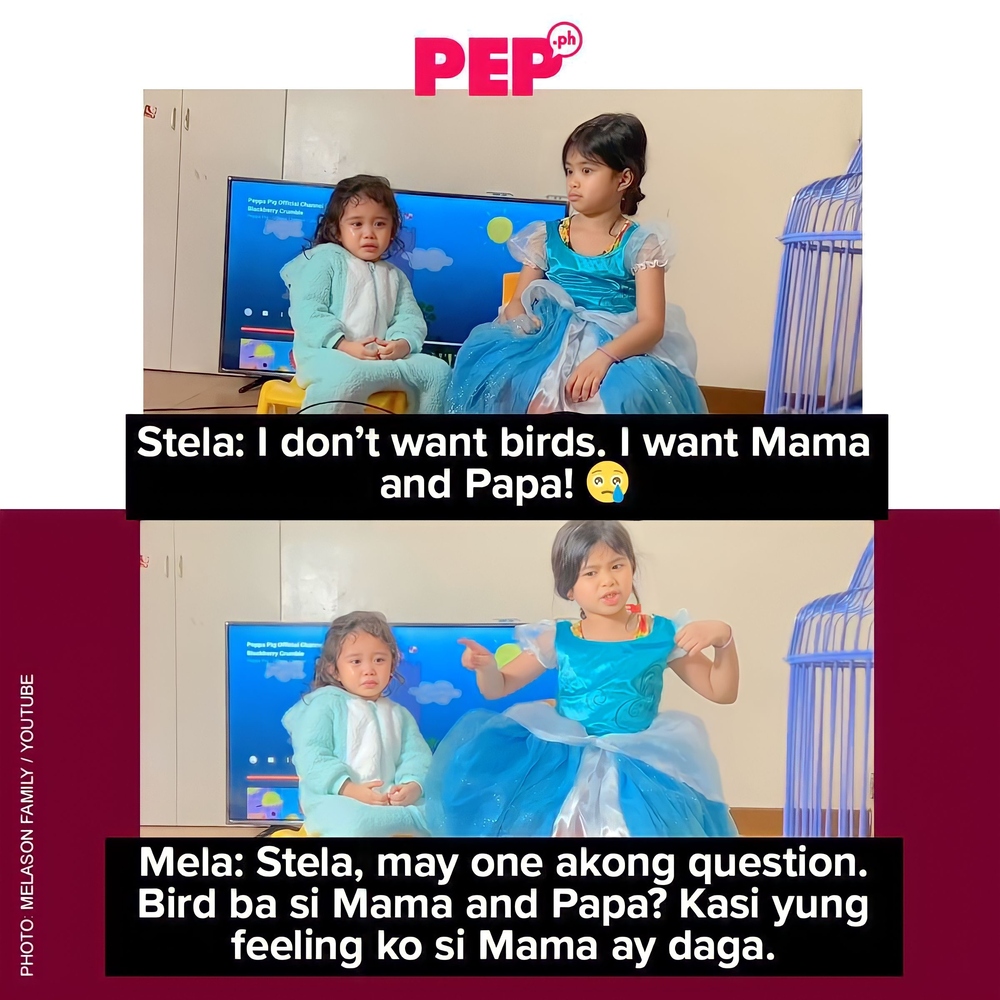 After giving each of them a basket full of candies, Melai and Jason blindfolded the girls for their next surprise.
Setting up the covered birdcages before them, Jason asked them to guess what could be inside.
"Hi guys, so this surprise, I don't know what is this," Ate Mela said after taking off her blindfold.
"That's a bird," exclaimed Stela.
Mela, who wanted to keep the element of surprise, kept signaling Stela to act like they don't know what it is: "Stela, you think that is a bird?
Stela insisted, "Yeah, look at that. That's a bird ate, di mo alam? Iyan oh!
"Bird iyan oh. Kita ko na iyan oh."
Taking the cloth off, the sisters were first excited to see two birdcages in their respective favorite colors: yellow for Stela and purple for Mela. Each birdcage contained three birds.
"I wanna touch them," Mela said.
Meanwhile, Stela kept her distance and stuttered, "I'm so scared."
Mama Melai quipped to Stela, "Takot ka sa bird, pero di ka takot sa ipis."
"Kasi gusto niya turtle," Papa Jason chimed in.
At the request of her mom, Ate Mela named her birds Cupcake, Princess, and Purple.
Seeing Stela still seated far from her birdcage, Mela asked, "Stela, you want sa akin na lang ito?
"Bakit ayaw mo sila, ang cute nila. O, behave sila."
Stela answered, "I want Papa."
"Ah, you want Papa? Ako na lang yung pet mo," responded Jason.
As Mela attempted to open the birdcage to touch the birds, Stela began to weep inconsolably.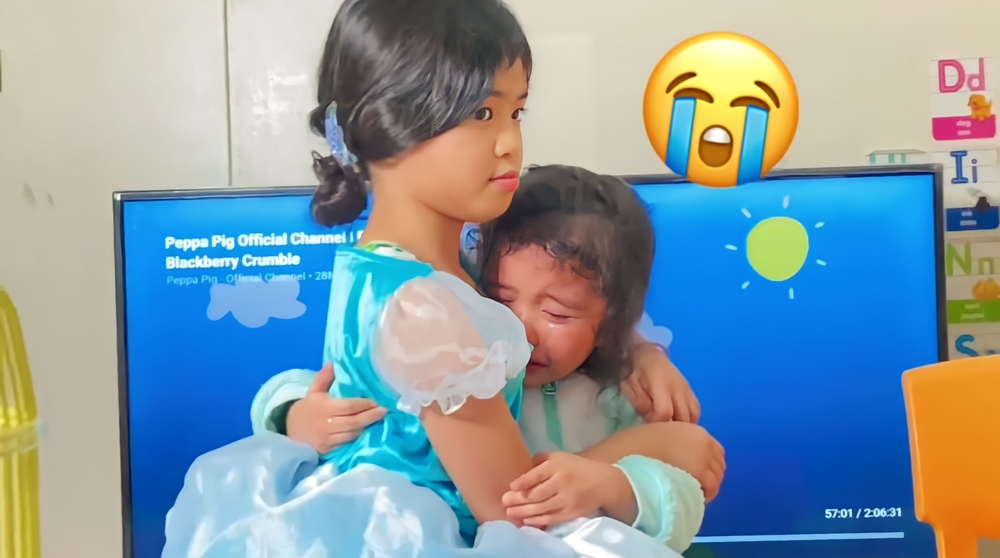 After which, Mela went back to her birds in utmost glee: "Guys, I like my birds. Thanks, Papa and Mama!"
Jason then instructed Mela to go and comfort Stela one more time.
"Stela, your crying is getting serious," Mela said. "You know, your bird is just quiet. My birds are not quiet and not behave. And your birds are just so very cute. Look, o, look at their eyes."
When Stela appeared to have calmed down a bit, Melai asked her, "What do you want? Dog or bird?"
"I want Papa," Stela answered.
Jason reacted, "Ay! Ano ako, aso?"
"I want Mama and Papa," the youngest Francisco repeated.
Simultaneously, Mela began communicating with her younger sister's birds: "Birds, Stela don't want you. You need to go and love her."
Once again, Stela insisted, "I don't want birds. I want Mama and Papa."
Before the vlog ended, Mela's final statement was enough to make the clip go viral.
She clarified, "Stela, may one akong question. Bird ba si Mama and Papa? Kasi yung feeling ko si Mama ay daga."
READ MORE:
News Philippines today at https://philtoday.info/