Cong TV hilariously asks James Reid to be his son Kidlat's godfather
Welcome to the Christian world, Baby Kidlat!
Today, October 27, 2022, is the birthday of vlogger Lincoln Velasquez, also known as Cong TV, and the christening of his son Zeus "Kidlat" Emmanuel Cortez Velasquez.
The day before Kidlat was to receive his first sacrament, Cong uploaded a vlog titled Gotpader, where he asked around for people to be his son's godfather.
"Si Viviys [his wufe Viy Cortez] merong nakuhang influencer na mga ninang ni Kidlat. Kaya hindi ako papayag na wala ako," Cong expressed.
Read also: Viy Cortez, Cong TV introduce first child "Kidlat"
Taking a bold move, Cong found a golden opportunity to ask one of the country's leading men, James Reid, if he could play a special role in Kidlat's life.
While both were on set to do a TV commercial, the YouTuber nervously asked, "Can you be the father of my baby? Ay ano ba iyon? Grandfather? Godfather?
"I'm sorry, I'm nervous, e, maybe you want to be the father?"
Because James seemed confused, Cong's brother and fellow Team Payaman member, Junnie Boy, who was also part of the shoot, said in jest, "Can you be the baby?"
To which James replied, "I can be the baby."
Just to make sure the Filipino-Australian actor understood his request, Cong asked once more, "By the way, James. Is that a yes, the godfather thing?"
He added, "You don't have to attend the ceremony. Maipamalita ko lang sa amin na ninong ka."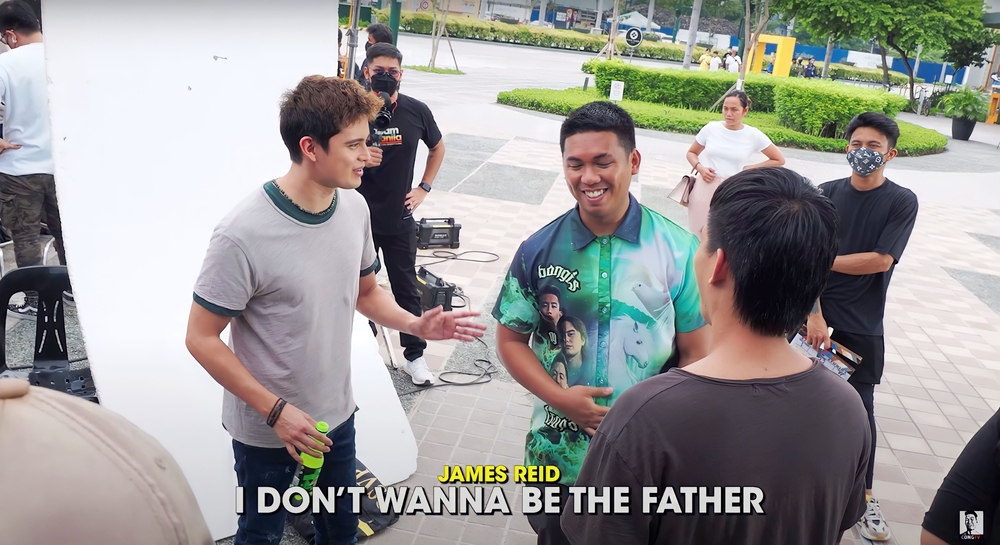 Here's Cong TV asking
Finally, James accepted the honor: "Okay, why not?"
Cong replied, "Kung totoo, ikasa mo nga. Godfather ninong ha."
James repeated, "Ninong, yeah. I don't wanna be the father."
NINONG WILD DOGS
The vlog also revealed that Team Payaman (TP) boys, also called Wild Dogs, were actually the first gents Cong requested to be Kidlat's godfathers.
After getting the approvals of his brother Junnie and brother-in-law Boss Keng, Cong proceeded to the headquarters of TP's drivers Kuya Mic, Kuya Terio, and Kuya Lem, and TP houseboy Kuya Inday.
Cong asked, "Naghahanap ako ng ninong ni Kidlat. Kasi si Viy kinuha niya si Donnalyn Bartolome, e, kaso si Donnalyn wala naman siya dito sa bahay.
"Paano niya tuturuan? E, ano bang trabaho ng ninong talaga?"
Kuya Mic answered, "Iyan ang aastang pangalawang tatay, pangalawang magulang."
Cong continued, "Pangalawang magulang, di ba? Hindi lang naman iyan pag ninong-ninang tungkol sa pera."
Everyone nodded in agreement, "Ay, siyempre hindi, hindi tungkol sa pera iyan. Kung ano ang maituturo na maganda."
READ MORE:
News Philippines today at https://philtoday.info/