Celebrities touched by Dimples Romana's reunion with daughter Callie Ahmee in Australia
Dimples Romana flew all the way to Australia to make sure she was there for her daughter Callie Ahmee's first flying session as a student pilot.
On Tuesday, July 19, 2022, Dimples took to Instagram with a video that showed how she surprised Callie moments before her firstborn marked a milestone in her studies.
In the caption of her post, the 37-year-old celebrity mom admitted that she has been missing her daughter a lot, especially with everything that's happening in their family.
Callie is currently based in Australia where she is finishing her studies to become a pilot.
Dimples wrote (published as is), "SURPRISE [emojis] @callieahmee is my first born, my rock, my anchor [emojis] And ever since she left for college and stay here in Australia, I've been having bad homesickness from not seeing her plus terrible post partum blues pa.
"@papaboyetonline knows this. Ganito din ako nun kay Alonzo. But he's so good at handling my post partum blues for me… Tinanggap ko naman nang matagal bago kami magkikita ulit ni Ate."
Dimples added that she and her husband Boyet Ahmee have been looking forward to visiting Callie in Australia.
The two experienced some roadblocks which led them to delay their visit to Callie. But it seems Dimples' prayers were heard.
The Kapamilya actress revealed, "Kuya Alonzo is going to big school na, I was going to give birth to Elio and basically all the odds were against Callie and I being together and I, being there for her for her milestones here as a student pilot.
"But the Lord knows how my heart yearns to be with her. And He has heard my silent prayers."
DIMPLES DECIDES TO FLY SOLO
Although Dimples and Boyet wanted to visit Callie together, Boyet is still waiting for the release of his Australian visa.
Meanwhile, the date of Callie's first flying session was fast approaching.
Dimples said in her caption, "Long story short, we have been waiting for @papaboyetonline to get his AUS visa Pero natatagalan and there's really nothing we can do about it.
"Til early last week when we got a phone call that it was only MY visa that came out first. And Ate Callie was scheduled to have her first flying training sesh two days later."
This led the couple to decide that Dimples would fly to Australia by herself to show Callie the family's love and support.
She continued, "So we decided that I fly first, (but of course I cannot stay long, leaving na din in a few days for my boys) but ultimately we didn't want Ate to feel that, just because a lot of things have been happening in Manila for our new family set up, that she wasn't a priority anymore and that we can't be there for her just the same way we've always been when she was little up until the time she left for college.
"Ate din ako, panganay, at kadalasan even if I wanted to say I needed my family more , I won't say it. Lagi ko kasing iniisip na Baka mas kailangan ng mga kapatid ko.
"Hindi pa mandin nagsasalita itong anak namin to. She'd rather keep it to herself than tell us she needs us. Napakabait."
Towards the end of her post, Dimples reminded her followers, "So here's @papaboyetonline and I making sure that ALL our children, regardless of age, milestones and locations, would ever feel they're any less valued than their other siblings.
"Sacrifices have been made being away from each other, but all in all, as @callieahmee would say every end of day, 'Thank you for TODAY' [emoji]?"
Meanwhile, Dimples' Instagram followers and celebrity friends were touched to see her reunion with her eldest child. Among those who left comments were Kaila Estrada, Charlie Dizon, Lovely Abella, Alora Sasam, Bea Saw, Ruby Ruiz, Jay Gonzaga, and Bernadette Sembrano.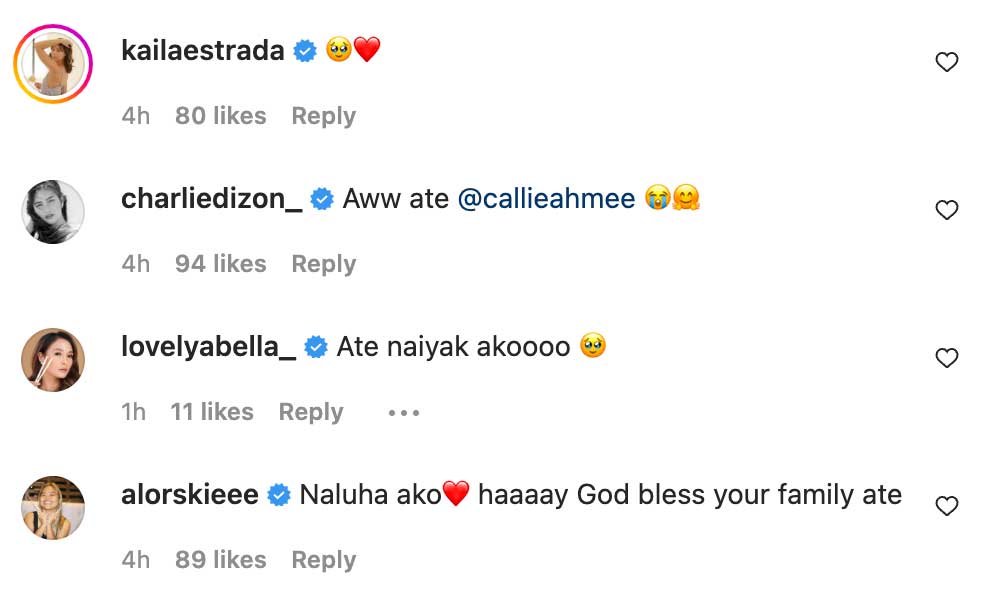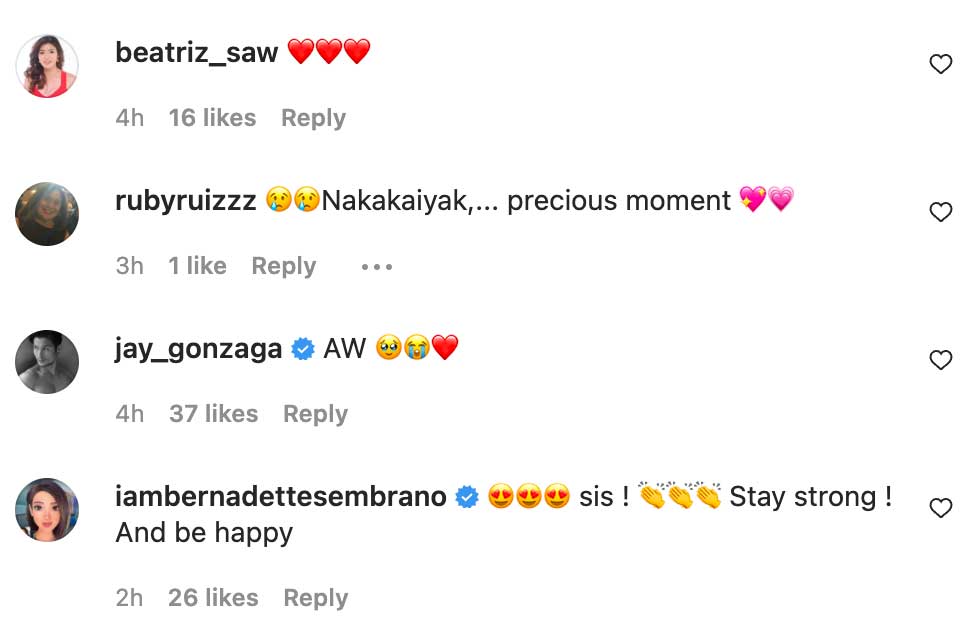 READ MORE:
#lifestyle-disclaimer {
font-size: 16px;
font-style: italic;
text-align: justify;
}
a {
color : #D60248;
}
News Philippines today at https://philtoday.info/