Celebrities, netizens react to Celeste Cortesi's Darna costume at Miss Universe 2022
Celeste Cortesi surprised everyone with her choice of national costume for the Miss Universe 2022 pageant.
The 25-year-old Filipino-Italian model was among the 84 candidates who donned national costumes to showcase their country's culture on Wednesday night, January 11, 2023 (January 12, PH time).
Celeste's choice was unconventional as she channeled her inner superheroine in a Darna-inspired costume for the pageant.
The Pinay beauty queen's two-piece red-and-gold suit with matching knee-high boots and arm cuffs was made by Oliver Tolentino, the Los Angeles-based fashion designer who also made her evening gown for the pageant's preliminary competition.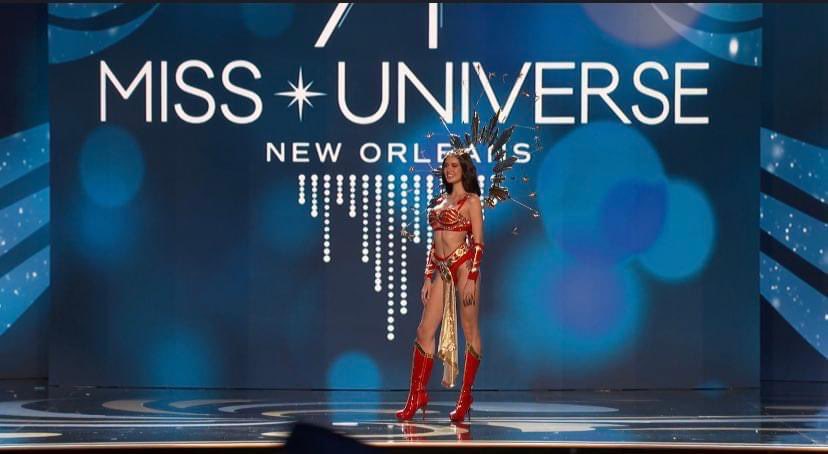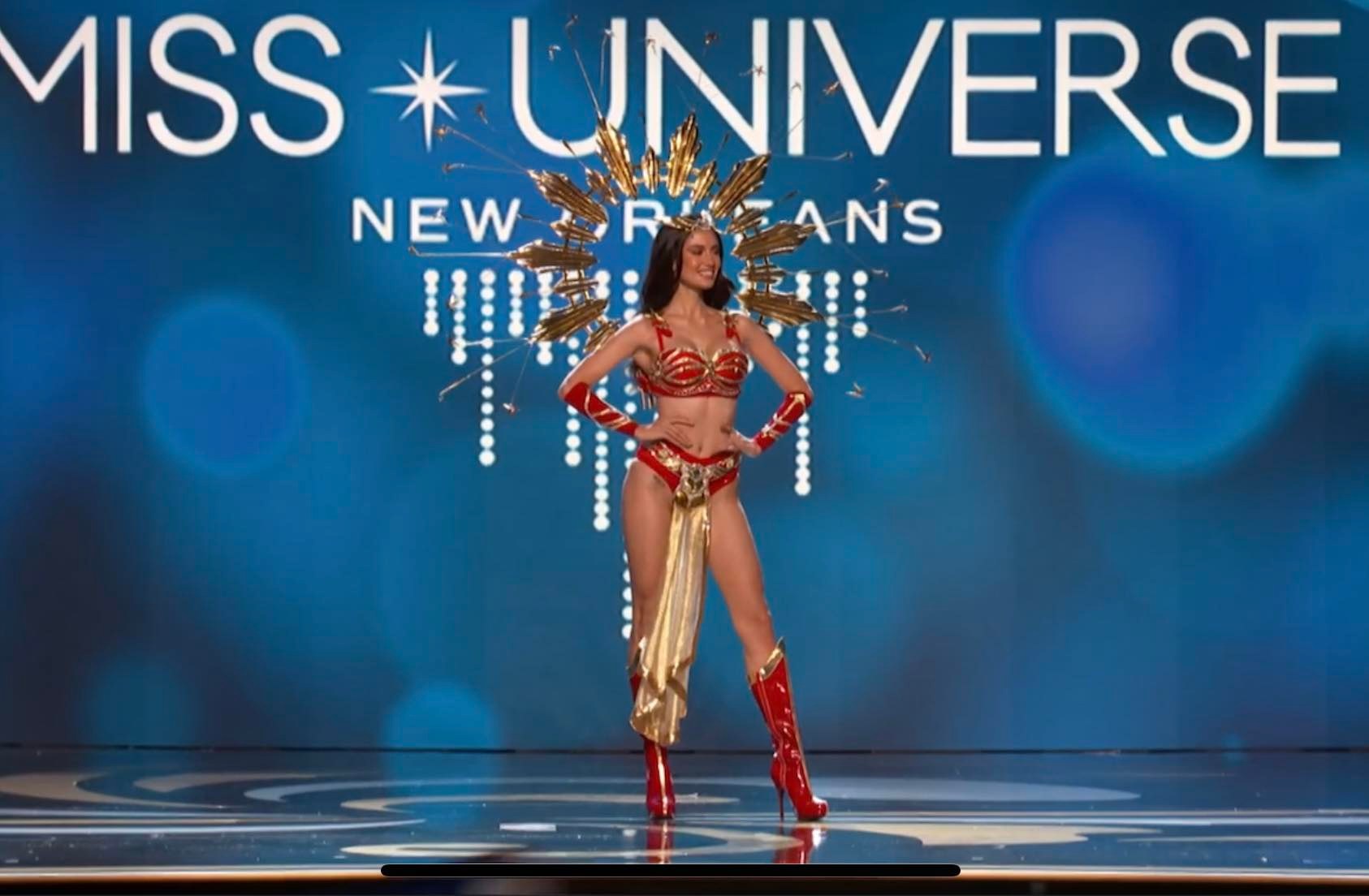 Her gold headpiece and other metal accessories were made by Jerome Navarro.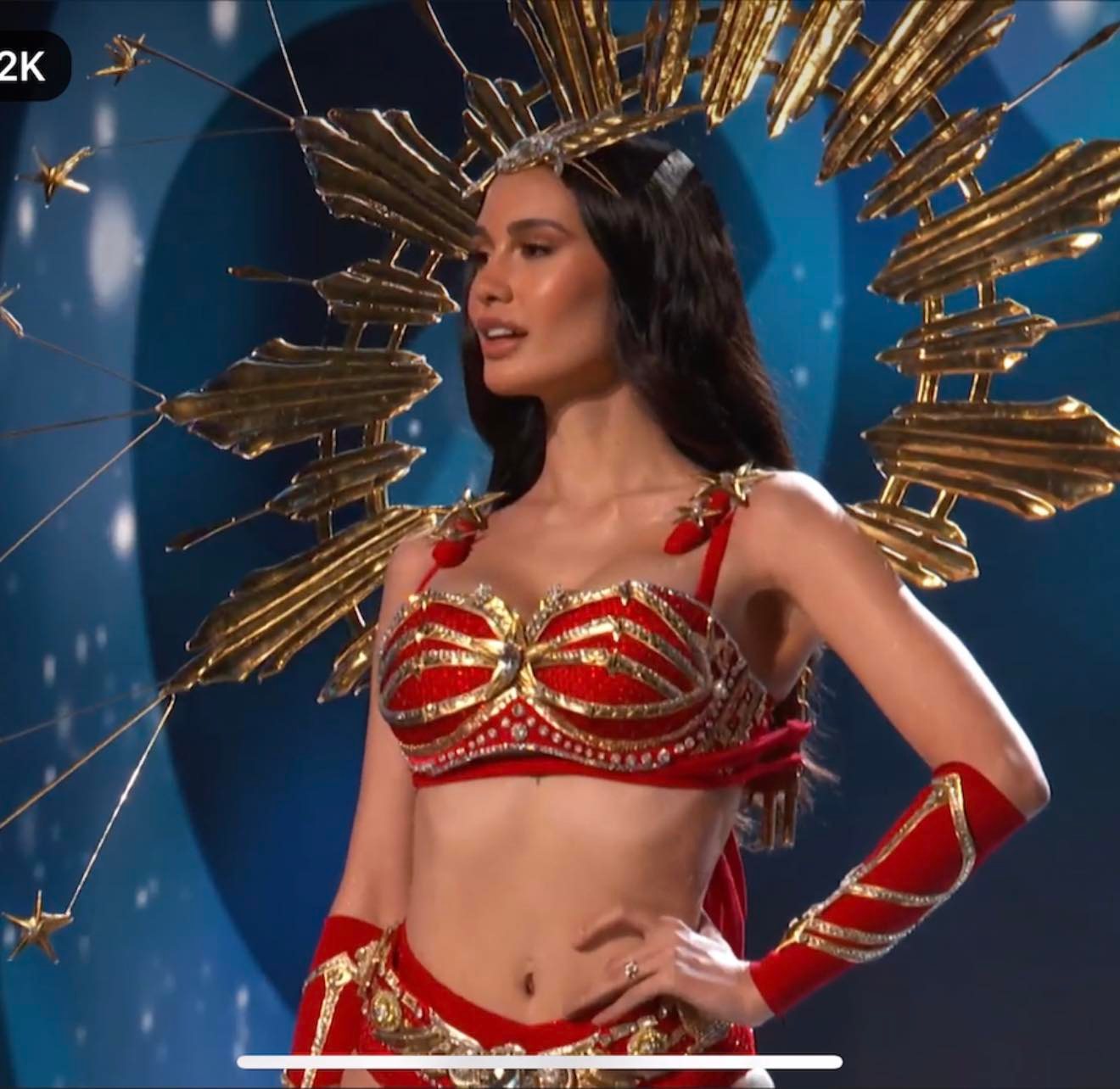 Celebrities and netizens were caught by surprise by Celeste's choice of national costume.
While watching the showcase live, former Miss Universe Philippines titleholder Mary Jean Lastimosa, tweeted, "Ding ang bato ng koronaaaaa #darna"
Miss Universe Philippines 2021 contestant Ayn Bernos was also ecstatic seeing Celeste in her national costume.
She posted on Twitter, "If anyone can pull off Darna, it's CELESTE!!!!!!! [Philippine flag emojis] Let's go!!!!"
Celeste also received generally positive comments on her national costume and it was a good surprise for Twitter user @2hwang_.
In a tweet, the netizen wrote, "@SOOperJING, di natin inexpect yern! kudos gulat na gulat ako ate HAHAHAHAH lumabas si darna."

Twitter user @EuwanPascual commended Celeste's stage presence in her national costume and wrote, "Celeste Cortesi as Darna at the #71stMissUniverse NatCos [emojis] Our Queen is serving hotness in the universe [emojis]
"You'll definitely wanna ask for more of her because of that stage presence every-time she goes out of the stage and represent our nation [emojis] Laban Pilipinas [emojis]"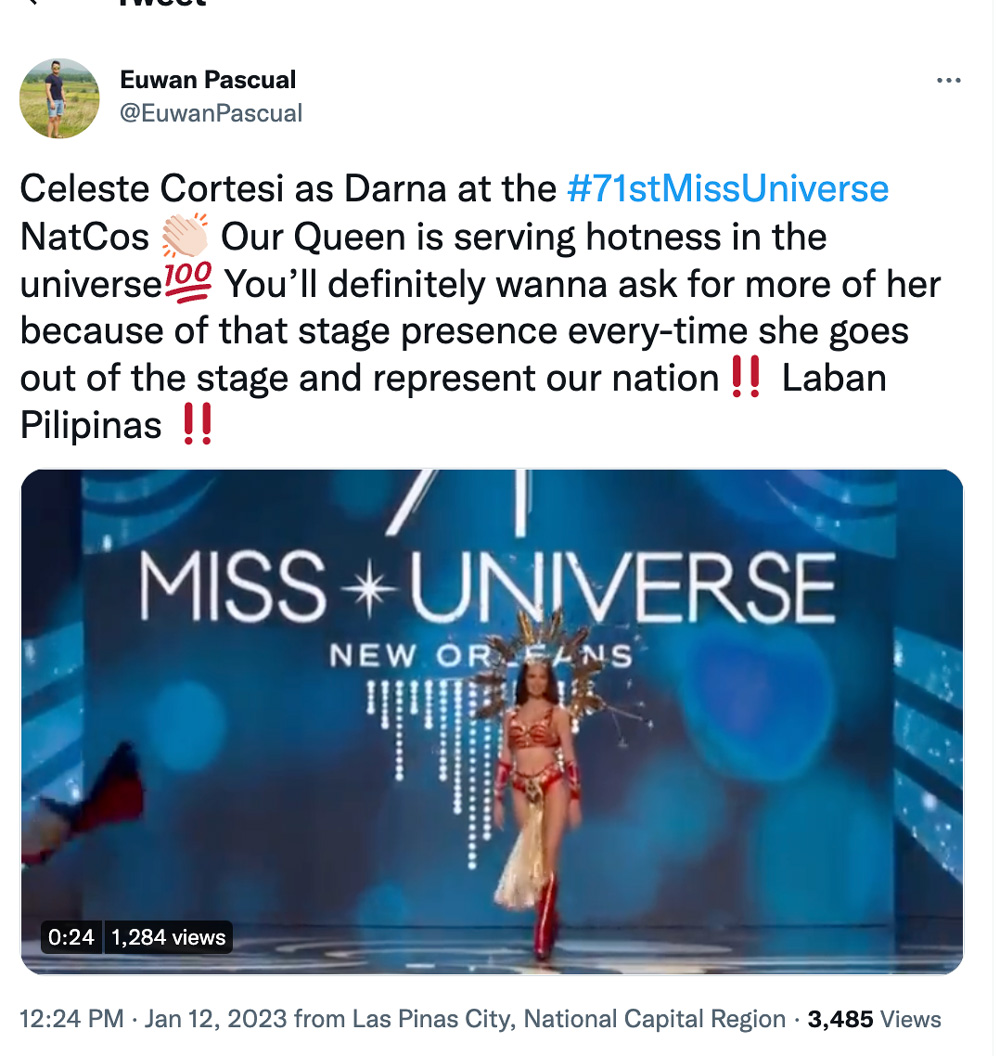 Another Twitter user @_buenosaries said the Darna costume was a dream come true for a pageant fan like him.
He tweeted, "Finally they used the iconic 'Darna' as a national costume in Miss Universe stage!
"Fans have been requesting if for so long, and today, the Filipina hero showed up in the most prestigious international stage! ANG GANDA MO CELESTE CORTESI!"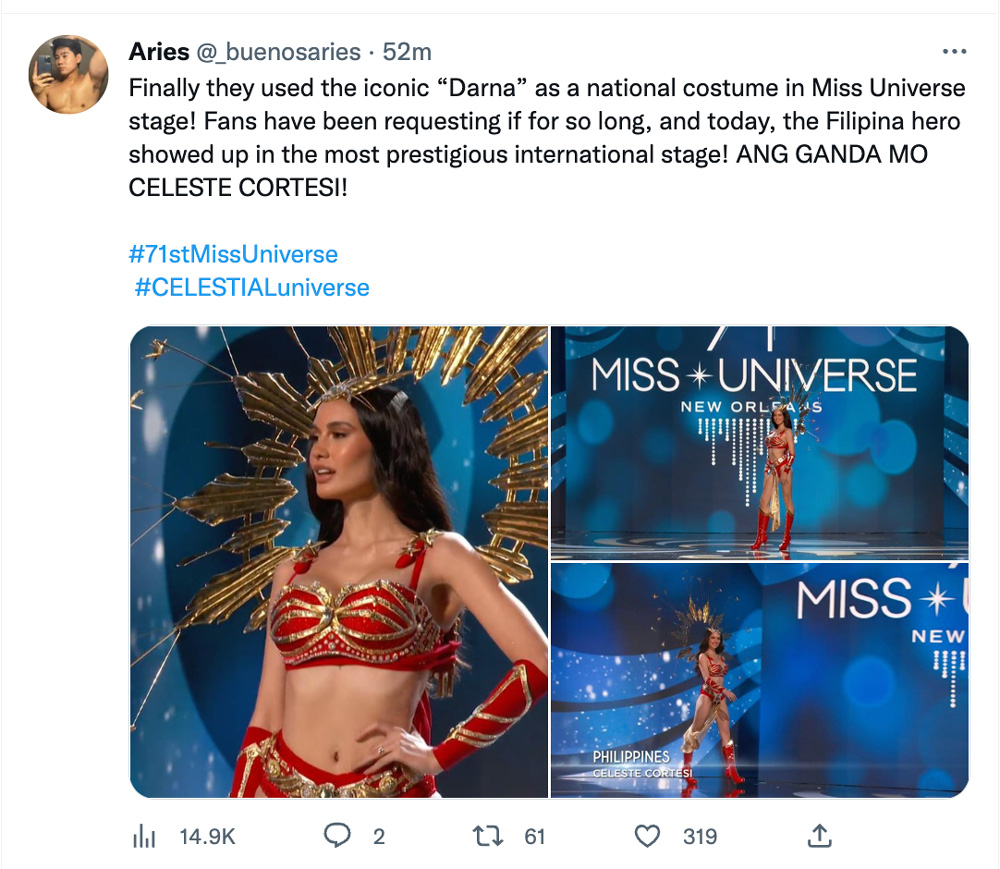 Meanwhile, @MeMajestyMiggy said Celeste's Darna costume was the perfect embodiment of the "strength and beauty of a Filipina."
His full tweet read, "A very nice way to showcase the strength and beauty of a Filipina. And Darna is the perfect embodiment [emojis] #MissUniverse"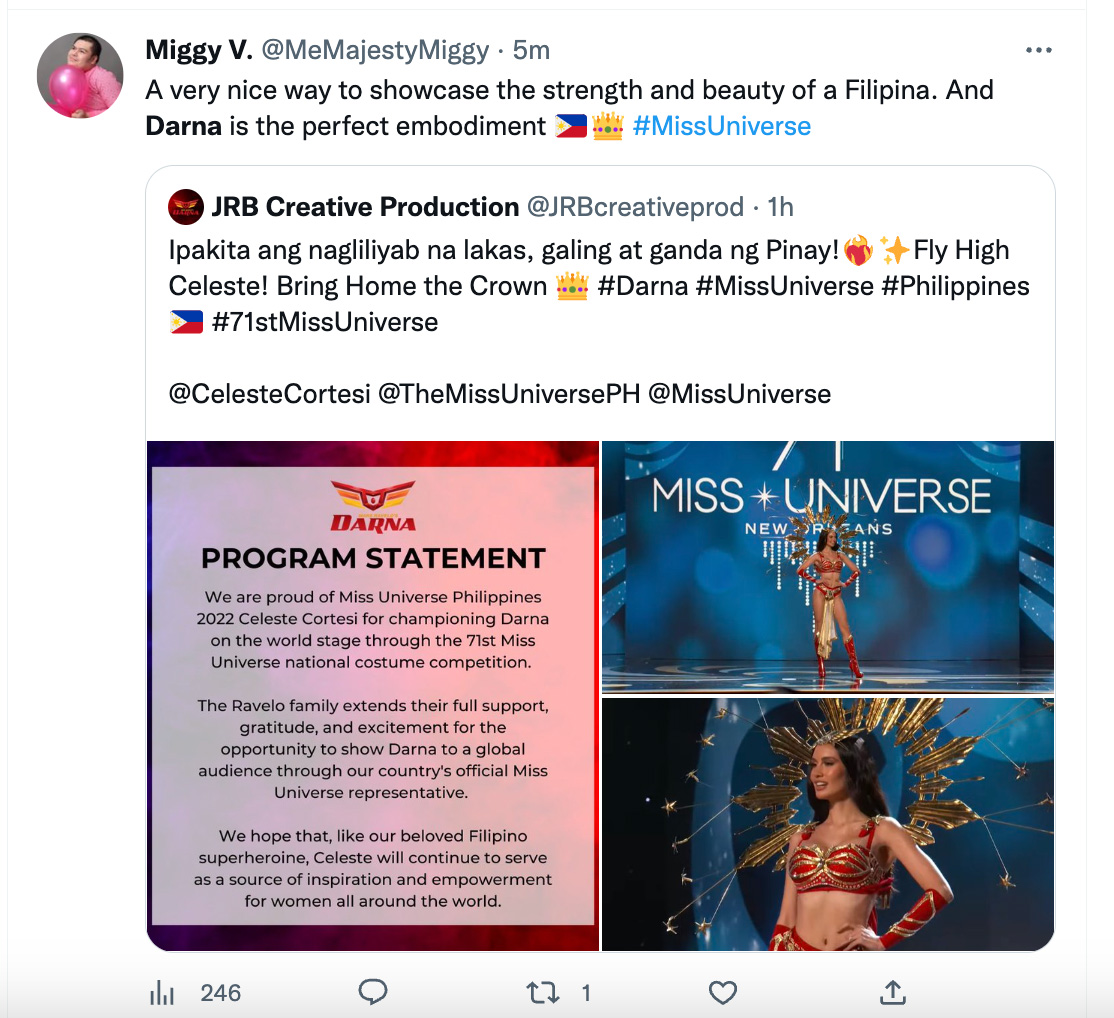 Some fans, however, questioned Celeste's choice and asked: "Kelan naging national costime ang Darna?"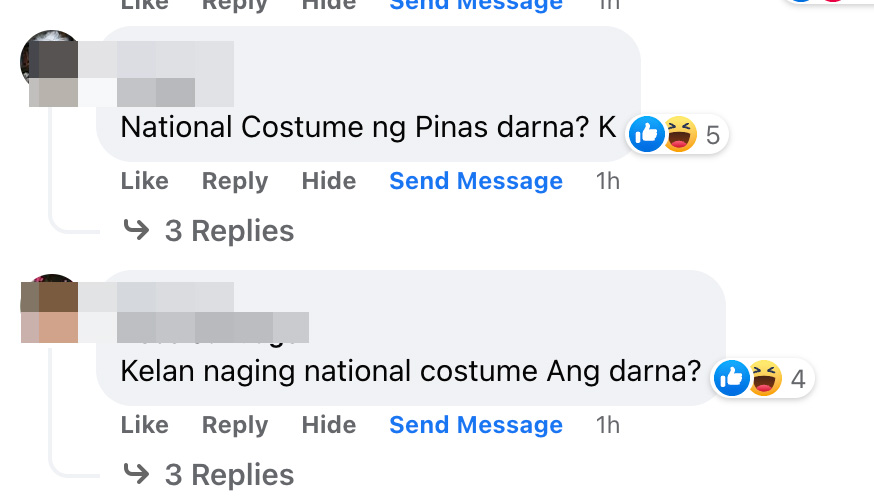 But over the years, candidates of the Miss Universe pageant have been using pop culture as a reference for their national costumes.
Twitter user @venccilito pointed out, "Sa mga humahanash sa Darna NatCos ni Celeste, take note na popular culture has long been used as a reference by many countries in the national costume segment of #MissUniverse.
"Awareness muna sana before talak."
@venccilito also uploaded photos of Miss USA 2013 Erin Brady's Transformers-inspired national costume, Miss Japan 2018 Yuumi Kato's ninja and Sailor Moon-inspired costume, and Miss USA 2016 Deshauna Barber's warrior/superhero costume to prove his point.
READ MORE:
News Philippines today at https://philtoday.info/