6 things you need to know about this must-have rubbing alcohol brand
You just can't go outside anymore without spraying rubbing alcohol on your hands every now and then. It's the norm since, kahit na mukhang back to normal na ulit tayo, we still have to safeguard our health.
You may already have a go-to alcohol brand, but we highly recommend checking out this rubbing alcohol brand that's worth trying out! Check out Biogenic, our new go-to sanitizer whenever we're out and about.
Here's why it's our current favorite:
It's non-drying
Admit it: nakakainis when sanitizing your hands all the time dries out your skin! To avoid that annoying magaspang feeling, Biogenic Alcohol is worth trying. It's infused with glycerine, a moisturizing ingredient found in many skincare products.
It's great for all-around use
Hindi lang naman kamay ang kailangan nating i-sanitize. To protect yourself, you also need to sanitize your smartphone, wallet, bag, and other surfaces while you're outside and once you get home. Good thing Biogenic is 70% pure alcohol to help you disinfect surfaces.
It actually smells good
Biogenic Alcohol has a pleasant scent that will remind you of the smell of cologne or aftershave lotion.
It's available in a variety of formats for every lifestyle
Need a sanitizer that can fit in your handbag? Get the handy 50mL spray or the 75mL flip-cap bottle. If you're looking for sanitizers to keep at home for your family's use or a version you can keep on your office desk or inside the car, get the 150mL/250mL/500mL/1000mL pull-up bottle, 330mL trigger spray, or the 750mL pump dispenser.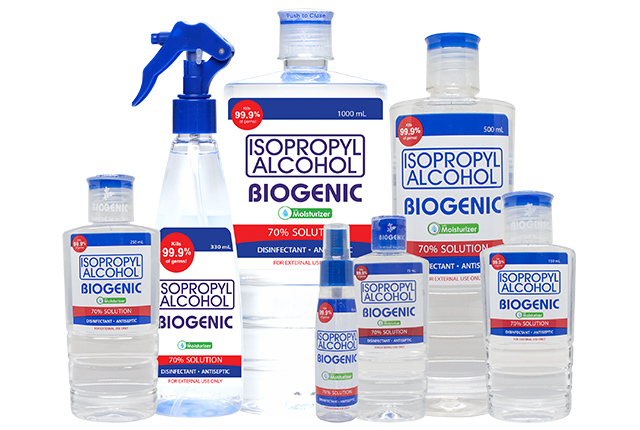 Plus, here's a wais tip: save up by getting a 1-gallon bottle and refilling your old bottles once they're empty!
Price starts at P18.00
Since you'll be buying rubbing alcohol a lot, it helps to look for a brand that gives you value for money. Biogenic offers many benefits—from disinfection and moisturization—for a budget-friendly and affordable price.
You can shop online
You also don't have to go outside whenever you need to stock up on Biogenic since it's available online! Shop for Biogenic products in the comfort of your own home via Shopee.
Stay safe when you're out and about! Always have alcohol in hand and remember to sanitize every now and then to help stay #ProtectedEachDay and keep #ProtectionsAlwaysOn!
Shop Biogenic Alcohol on Shopee and follow Biogenic on Facebook.
News Philippines today at https://philtoday.info/